Registration fees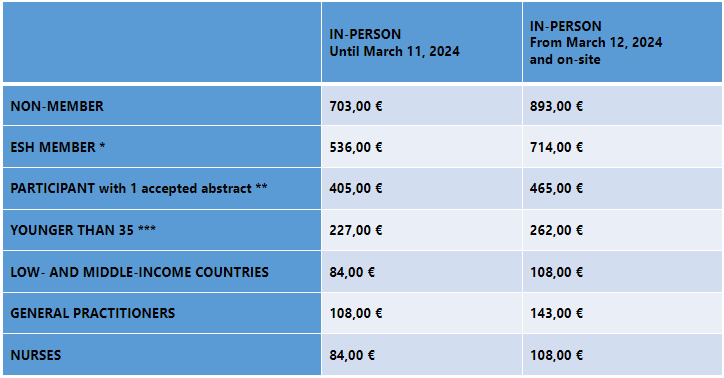 Fees are quoted in euro (EUR), per person, and include 19% Local VAT.
Online registrations will be accepted until May 23, after this date it will be possible to register directly on-site in Berlin.
* Applicable only to members of the European Society of Hypertension (ESH). Not applicable to members of other Hypertension Associations and National Societies
** Applicable only to presenting authors
*** Born after June 1st, 1989. Please send a copy of your document
Low and Middle-Income Countries registration fee refers to Low income and Lower-middle-income economies, as defined in accordance to the World Bank Country Classification. Find here the list of Countries. This fee is only applicable to non-sponsored registration and will be invoiced to the individual participant.

---
Participants living in Germany
Local delegates are entitled to a special fee.
Please register through the link below!
---
What is covered by the registration fee?

The delegate registration fee includes:
Unlimited access to all scientific sessions

Access to the exhibition area

Box lunches for 3 days

Access to the Opening of the congress followed by a welcome reception

Certificate of attendance
PLEASE NOTE: DAILY REGISTRATIONS WILL NOT BE AVAILABLE.
---
Confirmation
At the end of the online registration process, a preliminary confirmation will be sent to the e-mail address provided.
Once the payment has been received, the invoice will be issued as final confirmation of your registration.
Participation letter with barcodes/credentials will be sent few days before the congress.
---
Payment
By Credit Card
Registration fees are in euros (EUR), including 19% Local VAT.
Payments must be made in euros, by credit card or bank transfer (no cash payments are accepted).
All major credit cards are accepted (American Express, VISA, Eurocard/Master Card).
Bank Transfer – accepted only whithin May 3
Please transfer the payment to: AIM Italy srl
Bank details: 01882 – Milan
IBAN: IT57D0306909457100000005623
swift/BIC: BCITITMM
When making the bank transfer, kindly include the name of participant for ESH 2024 in the payment reference and ensure you send copy of bank transfer to  esh2024.reg@aimgroup.eu within 72 hours
---
FOR YOUR SECURITY
There are fraudulent websites, companies and individuals who falsely claim or imply that they are partners of ESH Annual Meeting.
Please be aware that registration is handled by the Organizing Secretariat –AIM Group International– only. The ESH does not accept any responsibility for bookings made via unofficial websites/agencies or any money lost as a result. This website is the official and only congress website.
All communications related to registrations at the ESH Annual Meeting will be sent by esh2024.reg@aimgroup.eu.
NAME CHANGES
FOR INDIVIDUAL REGISTRATIONS  AND SMALL GROUPS OF LESS THAN 10 PEOPLE ONLY
After April 30, 2024 name changes will be charged of an handling fee of Euro 150,00 (VAT included) per name change. A new online registration for each replacement will be required before the name change can be processed.
---
CANCELLATION POLICY
FOR INDIVIDUAL REGISTRATIONS AND SMALL GROUPS OF UP TO 10 PEOPLE ONLY
Notification of cancellation must be submitted in writing to AIM GROUP INTERNATIONAL. Cancellations will be accepted until February 29, 2024 with a refund of all prepaid fees except for a 30% administration charge.
No refunds will be made for cancellations received after this date.
CANCELLATION BEFORE FEBRUARY 29, 2024: 30% OF THE REGISTRATION FEE WILL BE WITHHELD
CANCELLATION AFTER FEBRUARY 29, 2024: NO REFUND WILL BE GIVEN
Approved refunds will start being processed and issued 60 days after the congress.
---
GROUP REGISTRATION
Group Registration is considered when a single sponsor/travel agency registers at least 10 individuals, and the official Group registration form is used.
For online group registration, a dedicated link will soon be available.
The early registration fee will be applied when the payment is received by March 11, 2024, even without the list of participants.

The final list of participants must be submitted online within April 30, 2024.
After this date, the difference between early and onsite registration fees must be paid for all names not included.
All registrations pre-paid at the early registration fee have to be used. No refund of the pre-paid fees is due by the Organizing Secretariat.
The last Deadline to send the names of all participants is May 23, 2024. After this date, registration can be made individually at the NEW Registrations Desk on-site.

PLEASE NOTE:
Fees are quoted in euro (EUR), per person, including 19% Local VAT.
Group reservation without the individual mailing addresses of the participants will not be accepted. Individual mailing addresses must be included to register a group.
NAME CHANGE: After April 30, 2024 sponsors who wish to make name changes will be charged of an handling fee of Euro 150,00 (VAT included) per name change.

Congress badges' collection for groups
The collection of congress badges for groups can be done on May 29 and 30 only. An appointment is required.
Please send an email with your day preference to s.segneghi@aimgroup.eu, no later than April 28th, 2024.
After this date and until May 17 each appointment request will cost Euro 200,00 (VAT included).
After May 17, 2024, appointment request will no longer be accepted.
---
UNEXPECTED CANCELLATION OF THE EVENT OR IMPOSSIBILITY TO HOLD IT
In the unlikely case that the ESH 2024 Meeting cannot be held in whole or in part due to any event beyond the Organisers' control or force majeure (such as riot, fire, explosion, accident, flood, earthquake, sabotage, strikes, acts of any government, etc) the Congress Organisers cannot be held liable for any damage, cost, or loss incurred, such as registration fee, transportation and accommodation costs, or any other direct or indirect loss or consequential damage.